Why partner with us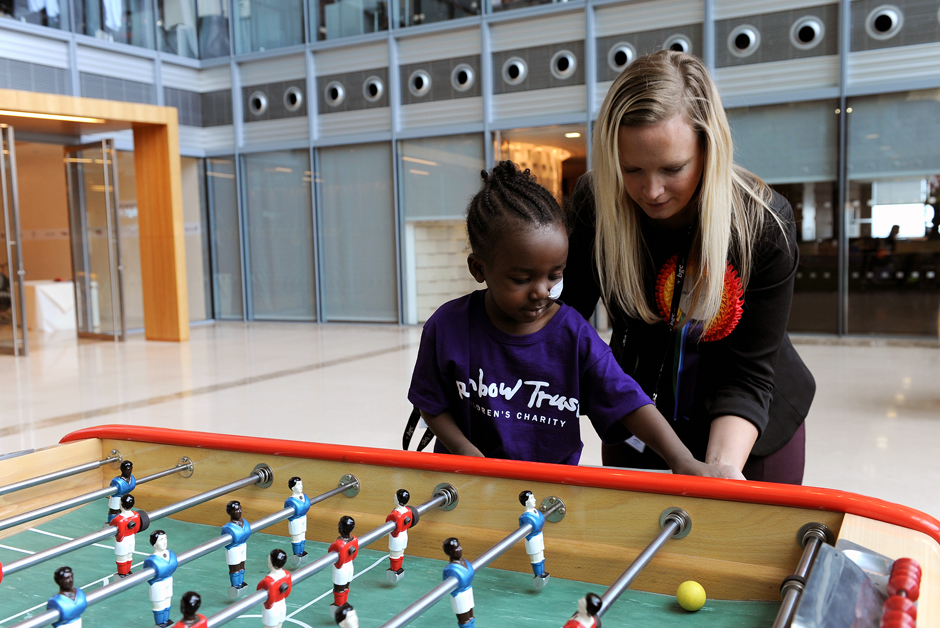 How we work with partners
Rainbow Trust's experienced and professional corporate team is dedicated to building tailored partnerships which meet the strategic business objectives of new and existing partners. Like the families we support, we work with every partner in a bespoke way, tailored to their needs and with agreed outcomes. We offer a friendly partnership, a great colourful brand to work with and our ability to reach a variety of audiences both on and offline. We work with a wide range of corporate partners from small to large organisations.
Benefits for you
Whatever your goals, we can support you to:
• Boost your company profile
• Gain a competitive edge in your marketplace
• Engage your customers, particularly those with children
Our expertise
We can help you to:
• Achieve marketing and publicity objectives
• Raise staff morale
For more details on how to develop a partnership with Rainbow Trust , please get in touch with our Corporate team.
Our issue
Rainbow Trust helps one in four families in England who have a child with a life threatening illness or a terminally ill child and need the bespoke support that we offer. We are one of the leading child social palliative care organisations.
"Families value the flexibility of support I provide. I've cleaned houses to ensure a sick child could return from hospital. I've helped a family find somewhere to live after being evicted. I've provided tissues when a mother needs someone to talk to. I do what is needed for that family." A Rainbow Trust Family Support Worker
Our brand
We are fast becoming a recognisable brand and one that is full of warmth, positivity and strength amongst all age ranges and groups. We are the only brand that provides support to the whole family, regardless of diagnosis, 24/7 and for as long as it is needed.
Our reach
Rainbow Trust has thousands of active supporters who make regular monthly donations. Recent on and offline press coverage includes features in The Guardian and The Independent on Sunday.
You may also like
We currently support more than one in four of families across the country who have a seriously ill child and would benefit from our bespoke service.

Our strategy

Great ways to get your employees engaged and fundraising for us.

Get involved